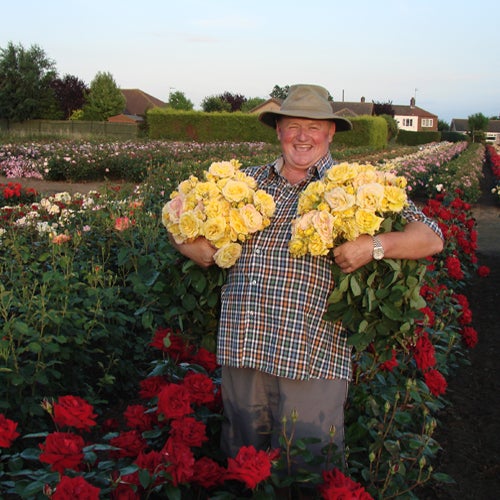 Colin Gregory Roses Ltd is operated by Colin Gregory in the heart of one of England's top flower growing regions in South Lincolnshire.
My name may be unfamiliar to you but I have gained 40 years' experience and skill working in the rose industry, from a young apprentice working with a small family firm through to a major rose growing companies in the eighties that supplied national accounts and mail order sales. Before I decided to start growing my own roses and supplying major names in the rose industry on contract.
My company has now restructured to an ever changing garden industry where more and more gardeners are now buying online. But we still have managed to keep the good old traditional way by supplying landscapers, professional gardeners, councils, garden centres, wholesalers, and also direct to the amateur gardener on the public retail side of our business, who can buy roses from the nursery or our online catalogue shop.
So as an independent family run firm, top class quality roses and services do matter to us. This is why we use the best blended compost mix to our specification in which to grow and nurture our roses throughout the seasons, from dormant stage to full flowering.
Here at our specialised rose nursery we offer first class roses at very sensible prices for the size of container we nurture our roses in, all covered by our "no quibble guarantee". It may be old-fashioned, but we take a pride in really caring for every individual customer, new or old.